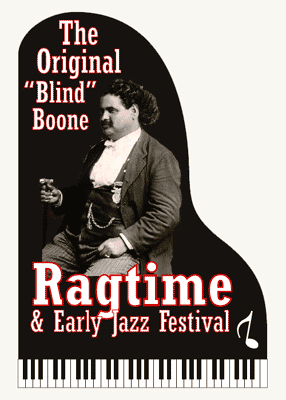 Columbia is just over a week away from hosting the 'Blind' Boone Ragtime and Early Jazz Festival, a three-day event packed with outstanding musical performances, seminars and nightly 'afterglows' to celebrate.
The events will take place at the opens in a new windowMissouri Theatre Center for the Arts, a beautifully restored vaudeville theater in downtown Columbia. Celebrate the history of early American music and one of the men who made it famous with internationally renowned musicians and fellow music fans. We really think the schedule of performers speaks for itself:
Monday June 11th
o The Ragtime Concert at 7:30 pm
With John Reed Torres, Martin Spitznagel, The Sedalia Ragtime Orchestra, and Robert Milne
Tuesday, June 12th
o Living the Ragtime Life with Max Morath at 2:30 pm followed by The Young Turks Concert
With Will Perkins, Max Keenlyside, Vincent M. Johnson, John Reed-Torres, and Frank LiVolsi
o The Early Jazz Concert at 7:30pm
With Max Keenlyside, Terry Waldo, Paul Asaro, Adam Swanson. Featuring Richard Dowling and Frederick Hodges performing Gershwin's Rhapsody in Blue on two 9-foot concert grand pianos.
Wednesday, June 13th
o The Stride, Boogie and Blues Concert at 7:30pm
With Paul Asaro, Terry Waldo, Adam Swanson, Frederick Hodges, Dalton Ridenhous, Max Keelyside, Will Perkins. With a finale solo performance by Morten Gunnar Larsen
Pretty incredible, right? We hope you'll agree and come join us for this outstanding event. Get your tickets in advance and come honor one of Columbia's most famous citizens.